Unique vibrant aromas curated from artisans from across the world!
Vendor:

Regular price

Sale price

£38.00 GBP

Unit price

per

Vendor:

Regular price

From

£17.99 GBP

Regular price

£17.99 GBP

Sale price

From

£17.99 GBP

Unit price

per

Vendor:

Regular price

From

£15.99 GBP

Regular price

£15.99 GBP

Sale price

From

£15.99 GBP

Unit price

per

Vendor:

Regular price

From

£18.99 GBP

Regular price

£18.99 GBP

Sale price

From

£18.99 GBP

Unit price

per
Artisanal Oud Distillations
Regular price

From

£28.00 GBP

Regular price

£28.00 GBP

Sale price

From

£28.00 GBP

Unit price

per

Regular price

From

£28.00 GBP

Regular price

£28.00 GBP

Sale price

From

£28.00 GBP

Unit price

per
ALL NATURAL INFUSION OILS
Regular price

£25.00 GBP

Sale price

£20.00 GBP

Unit price

per
Collapsible content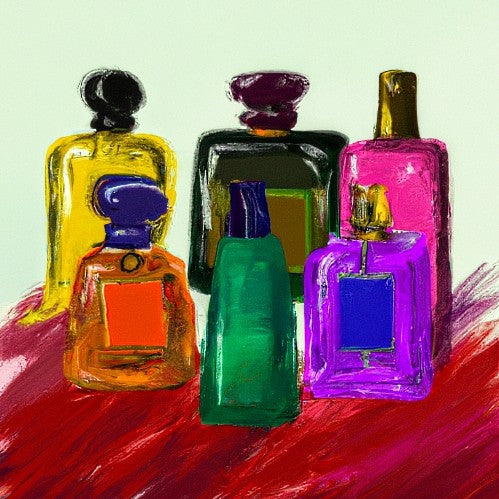 ABOUT OUR PERFUMERS

AGAR AURA & SOLAFA SCENTS

Offerings: Pure Oud Oil Distillations | Natural Attars & Perfumes.

Agar Aura is not your average oud oil supplier. From hunting in the jungles of South East Asia, to selecting the choicest agarwood for distillation, and conducting artisanal distillations of oud oils using our unique techniques, Agar Aura are a fully integrated company that focuses on offering the finest pure oud oils and attars.

There are many companies that sell natural fragrances. But when it comes to oud oil, it is hard to find sources that meet the highest standards of quality and purity.

Agar Aura pride themselves to be one of the few companies that do.

Solafa Scents is a branch of Agar Aura, and a brainchild of Agar Aura's distiller-cum-perfumer, Taha Syed.

Being hyper-sensitive to the majority of mainstream fragrances, Taha completely shunned them altogether for over a decade. However, being exposed to some high end perfumes produced by leading French perfumers that intelligently utilize both natural and high quality synthetic ingredients, he was very impressed. Inspired, he took an unexpected detour.

Solafa Scents perfumes are composed using natural and synthetic ingredients, a variety of mixed media including oils, resins, gums, crystals, isolates, and tinctures.

If the bulk of fragrances have been your bane, Solafa Scents will be your boon.

Solafa Scents was born with the vision of embracing and uniting different perfume philosophies, an array of ingredient sources, and perfume traditions from around the world. 'Solafa' (سُلَافَة) is an Arabic word that denotes the choicest pick, the sweetest portion of wine, the cream of the crop. Solafa Scents' aim is to bring you top quality scents that you and those around you can enjoy.

 

ABDUL SAMAD AL QURASHI

Offerings: Attars | Oud Blends | Perfume Oils

Run by a family of fragrance connoisseurs, the Saudi based world-renowned masters of artisanal perfumery have crafted an extensive range of fine perfume oils (attars) and pure distillations over the decades.

The family business was established in 1852 as a processing plant for vein wood in Saudi Arabia, eventually introducing the processing of other raw materials including amber.

The business expanded in 1932, offering exclusive perfumes including fragrances sold to The House of Saud (Saudi royal family).

In 1935, the perfume house was founded through merging the business lines, becoming the modern day Abdul Samad Al Qurashi (ASQ).

Known as the house of oud and amber, ASQ offer some of the best oud distillation and amber oil in the world. In addition, ASQ boast an extensive range of artisanal oils including florals (rose, jasmine, and floral blends), captivating musks and orientals, and an array of fresh fragrances. ASQ are globally noted for their classic and contemporary blends alike.

ASQ oils are a great start for ones new to the world or oud and perfume oils. 

allthatsscents offer a selection of high quality Arabian perfume oils from ASQ. These including singles species oils (such as rose, jasmine, amber and saffron) along with their range of musks, classic and contemporary blends, and oud blends. A perfect choice for ones wanting to explore the world of perfume oils, and equally for ones already familiar with the eclectic range of Abdul Samad Al Qurashi oils.

Click here to view the range of ASQ oils available at allthatsscents. 

 

ABOUJAMIL PERFUMERY

Offerings: Natural attars | Perfume Oils

Aboujamil Perfumery was created in 2019 by French based self-taught perfumer Samy Aboujamil - a fragrance enthusiast since childhood. 

Fascinated by scents and natural aromas, Samy over the years collected and experienced a vast array aromatics. Experimenting, and honing the art of blending, ultimately deciding to share his passion through offering his wondrous makings to the world. 

Aboujamil Perfumery offer a range natural attars as part of their 'Aboujamil Luxury Collection'. In addition, they also offer a selection of quality perfume oils under the 'Aboujamil Attar Collection' which are ideal choice for ones new to attars, and for casual everyday wear.  

allthatsscents offer a selection of oils from the 'Aboujamil Luxury Collection' and their 'Aboujamil Attar Collection' both.

 

ELIXIR ATTAR

Offerings: Natural Attars & Perfumes

Founded in 2017 in the US by nose and founder Ahmed Mostafa, Elixir Attar are a small team of artists and chemists with one goal in common - to deliver profound sensory experiences from all corners of the globe through natural perfumery.

Since inception, Elixir Attar have continued to shown their unwavering commitment to crafting most exquisite and finest of perfumes. Sourcing the best of ingredients from the Middle and Far East.

Their artistry, craftsmanship and quality has merited them access to premium grade materials, as well as establishing connections with some of the Eastern and Arabian royal families, ensuing access to materials exclusive only to Elixir Attar.

As part of his journey as a professional perfumer, the founder/chemist (Ahmed) has enjoyed the privilege of learning directly from prominent masters of perfumery from across the world (France, Dubai, Thailand, Russia, Turkey and Azerbaijan). 

Elixir Attars combined knowledge of traditional practice of natural perfumery, aromatherapy and chemistry gives them a unique edge. Which has led to delivering a revered and distinguished range of attars and perfumes.

allthatsscents offer an exclusive selection of oils from Elixir Attar, making these available to UK based customers through our quick and and comparatively cheaper delivery service. 

Click here to view the range of exclusive attar oils available at allthatsscents. 

 

FEEL OUD

Offerings:  Artisanal distillations | Natural attars

Founded in 2014, Feel Oud is a collaboration between two world-renowned artisanal oil distillers, Russian Adam and Dimitry Bortnikoff. By sourcing truly rare and superior all natural materials, the artisans behind this house are driven by nothing but sheer fascination and obsession with producing the finest of distillations ever.  All done by hand, from start to end. 

The story began upon Russian Adams first ever exposure to the most prized scent - oud. An aroma which Adam found to be, in his words, "disgusting". With a conflict between initial perception and the experience, Adam felt compelled to try oud, again and again. The fascination gradually turning into an addiction for ouds immensely complex scent profile.

Adam's journey of exploring the world of oud led to him to studying and collecting various custom made oud oils crafted from high grade materials. The search  eventually turned into an expedition to find what Adam viewed as the 'perfect' aroma.

With the objective feeling almost unaccomplished despite exhaustive research, Adam was finally decided to embark on the ultimate journey - to distil oud himself. Residing in the UK, he decided to shift to Thailand to pursue this dream. Where he came across a fellow Russian and oud lover, Ali (popularly known as Dimitry Bortnikoff, the to be owner of 'Bortnikoff'). A union that eventually led to co-founding Feel Oud.    

Through deploying meticulous and intricate distillation techniques with hands-on involvement throughout the making, Feel Oud have since created an outstanding range of oud oil of varying grades. Each yield resonating the quality and rarity of the agarwood used. Their offerings to date include one of the highest quality of agarwood oil (oud) ever produced.

Feel Oud have also gained prominence through making natural attars by combining oud with worlds finest materials. This through deploying traditional perfumery methods of co-distillation and infusion.

In addition, Feel Oud are also renowned for their unique sandalwood distillation method which combines both traditional and modern techniques.

allthatsscents offer an assortment of oils from the Feel Oud range.   

 

KASHTI

Offerings: Natural Attars & Perfumes 

Kashti', a hindi word, translates as 'boat' or 'coast', also interpreted as 'drift', 'journey', 'navigate' or 'voyage'.  

An inspiration manifesting as conception of a journey. Of an Engineering graduate from the town of Vadodara, India. A youth with a clear vision, directed by pure passion for creating something new, something special!  

Meandering into the world of natural aromatics for several years, sharing fruits of his trials with one's around, firmly encouraged. The devotion leading to creating Kashti in 2021.

The novel, self-taught perfumer has since made several releases of attars and perfumes - all fully natural and made in small unique batches.

One thing paramount to Kashti's work - curating nothing but world class ingredients for all his makings. Sourcing materials from places such as France (Grasse), Siberia, Haiti, Srilanka, Madagascar, and various regions within the global hub of natural perfumery itself i.e. India.

With admiration received from ones enthused to take a whirl at their art, near and far, Kashti now look to extend their offerings to meet growing intrigue.

allthatsscents

 are currently offering a limited batch of 

both attars and spray perfumes (EDPs) from Kashti.

 

MAISON ANTHONY MARMIN

Offerings: Perfume Oils | Oud blends

Expressing history, heritage, tradition & culture through the art of perfumery, this innovative fragrance house offers a truly unique range of undiluted oils. Included is their renowned oud, amber & musk blends.

The house was founded in 2013 with the brand name Abdul Karim Al Faransi (AKAF) by self-taught perfumer Anthony Abdul Karim. With roots from the region of Provence (France) and childhood memories of lavender, orange blossom, roses, tulips and violets being common features of the home decor, the 'to be' perfumer grew up with an inborn fascination with natural aromas.

His exposure to attars (traditional perfume oils) and Arabian perfumery acted as a key turning point. Following this Anthony, in pursuit of his passion, embarked on a journey of collecting rare aromatics and becoming a perfumer.

Anthony specialises in crafting traditional mid-eastern perfumes with a contemporary touch. His house's vision - an invitation to an unforgettable sensory journey through the ages - is artfully presented through an impressive set of collections, namely the Oud, Heritage, Amber, Progressive, Musk, Romance and Fashion (R)evolution.

In 2020, the house rebranded as Maison Anthony Marmin (MAM), continuing to deliver the their vision..

allthatsscents offer a comprehensive selection of perfume oils for from the Maison Anthony Marmin range.

 

NEESH PERFUMES

Offerings: Natural Attars | Perfume Oils | EDPs

Originating in 1904 and re-establishing in 2014, NEESH are a fashionable high-end perfume house with headquarters based in India and Paris.

NEESH™ spray perfumes are blended by award winning master perfumers like Christophe Raynaud and Nanako Ogi. They use an exquisite pallet of materials for their fragrances, combining ingredients as intensely concentrated formulations to achieve an irresistible head-turning effect from the by passers. 


All NEESH™ perfumes come in Extrait De Parfum concentration, delivering a reinforced lingering effect.

Complimenting the range of fine fragrances is their line of traditional attars and perfume oils. All made in the global hub of traditional perfumery, Kannauj (India), by pioneers like M.L Ramnarain - perfumers with generations of experience in distilling exotic natural materials.

While all premium attar oils from NEESH™ are made from 100% (or nearly 100%) natural distillations, the introductory range of NEESH™ attar oils are created from a combination of natural materials and high quality synthetics to give strength to the scent profile.

allthatsscents are offering a one-off limited stock of both spray perfumes and attars from NEESH Perfumes.  

 

YAASEEN ARTISAN PERFUME HOUSE

Offerings: Natural Attars | Pure Oud Distillations

Founded in 2021, this ambitious perfume house has gained marked prominence in the natural perfumery scene through its highly creative and complex natural attar oils. Moustafa Shoair, the talented perfumer behind Yaseen Artisan Perfume House, uses rare and treasured natural aromatics to capture the senses of perfume enthusiasts. 

Born in Egypt, Shoair now resides in Baltimore, where he devotes himself to the discovery of the finest materials in making spectral compositions.

The Pursuit of Excellence:
Shoair's discerning nose and passion for his craft drive him to source exceptional ingredients from across the world. In particular, he is passionate about ouds, musks, and florals, and uses them to craft fragrances that evoke emotions, transcend boundaries, and leave a lasting impression on those who encounter them.

Marrying Tradition and Innovation:
Drawing inspiration from his Egyptian heritage and cultural richness, Shoair expertly weaves together tradition and innovation in his compositions. His compositions pay homage to the ancient art of perfumery, while incorporating contemporary techniques and a modern sensibility. This delicate balance between the past and present enables Yaaseen fragrances to transport wearers to ethereal realms while maintaining a distinct contemporary allure.

A Symphony of Fragrant Notes:

Shoair's expertise allows him to extract the true essence of each ingredient, amplifying their individual characteristics while ensuring harmonious compositions. The result is a collection of fragrances that exude sophistication, complexity, and a deep appreciation for nature's bounty.


A Fragrant Legacy in the Making:
In the short period since inception, Yaaseen Artisan Perfume House offered a range of attar oils characterised by a varying DNA. Displaying his commitment to and passions for excellence, and unwavering dedication to making unique compositions. Garnering the attention and admiration of perfume connoisseurs, Shoair continues to expand its offerings and share his creations with a broader audience. Poised to leave a lasting impression for years to come.
Let customers speak for us